Race Reports, September 2008
Top of the Forest Fell Race, Hamsterley, 28th September
Dougie Nisbet
The DFR Top of the Forest race does pretty much what it says. Starting from the Grove car park the route meanders west then north, climbing steadily to around 427m (1440 feet). The surface is pretty much hard-packed forest drive and upon reflection I think I would've been better in road shoes than trail shoes. There are a couple of interesting stretches on footpaths and a jolly bit of descending amongst some tussocky heather, but for the most part, it's all tracks.
I started at the back of the 30 or so field and passed a couple of runners in the first few hundred yards. Then a few minutes later I passed someone else. Then, well, that was about it. The remainder of the 8.5 mile course was a pretty lonely affair. I nearly caught someone just before the top but he deftly stayed away by the clever ploy of having very long legs, which he unfolded at the top and disappeared John-Cleese-like leaving me on my own again. I finished fourth (last) in a time of 76:10 - a result I was pretty happy with, and I believe Will Horsley was around somewhere (near the front). I was cheered on into the finish by Tom Reeves who suddenly appeared slightly surreally on a bicycle. [ He's always doing that - turning up on a bike, claiming he's not a pipe. Ed. ] The prize (a can of Caffreys) appeared to be very democratically awarded to all runners regardless of ability, a decision I have absolutely no problem with, and believe all race prizes should operate this way.
There was a certain satisfaction in the steady climb and feeling of being at the top of the forest but for me the handicap course is far more interesting. I mean, there wasn't even any mud! How can you call it a fell race if there's no mud?
Results
| Pos | Name | Club | Cat | Pos | Time |
| --- | --- | --- | --- | --- | --- |
| 1 | Joe Charles | Clwydian range | M | | 50:09 |
| 18 | Sarah Lister | Blackhill | F | | 59:23 |
| 28 | Dougie Nisbet | | M40 | | 70:10 |
31 finishers
Berlin Marathon, 28th September
Peter Brooks
Wilkommen in Berlin! That's about the limit of my German language skills.
We flew over to Berlin on the day before the marathon (Lindsey & I from Newcastle, my parents from Birmingham) and, after dropping our cases at the hotel, Lindsey and I made our way to the expo to pick up my number. Why do marathon organisers arrange for the expo to be held so far away from anywhere? Even with the super-efficient Berlin transport system, it took nearly an hour to get to the expo. I was met by uncharacteristic disorganisation at the expo, there were no signs where to pick up the number, just market stalls everywhere trying to sell running kit and queues of runners looking bemused. Eventually I joined a queue that looked like people waiting for their numbers - indeed it was runners waiting for numbers, but in the wrong place I was directed to another building and got my number and chip and went back to meet my parents for our very own pasta party.
On the day of the race we wandered down to the U-Bahn (underground) station at about 7:30am thinking that we would have to wait a while for a train but one came within 5 minutes and we made our way to the start of the marathon by following the crowds. I was in section H at the start (the last one) so, after a cup of coffee, I made my way to the pen and waited with the other 39,999 runners for the start. The elites started at 9am and the other pens were set off in waves, I started at 9:25am.
Due to my summer of Achilles problems, I had a plan which involved not running 'eyeballs out' but to jog round and enjoy the atmosphere and just to have fun and I managed to stick to that plan. I have never seen so many Germans get so excited about a load of sweaty people running past. I kept hearing 'Laufen Striders' being shouted as I ran past, I later found out that Laufen means run and they weren't hurling insults at me!
I had a great time and it was a nice feeling finishing behind the great Haile Gabreselasse on his record breaking run (albeit 3hours 8 minutes behind). I would definitely recommend Berlin to anyone wanting to run a European marathon as it is extremely well organised (apart from the expo), has a great atmosphere and, most importantly, it is totally flat.
Auf weidersehen pet.
Results
| Pos | Name | Club | Cat | Pos | Time |
| --- | --- | --- | --- | --- | --- |
| 1 | Haile Gebrselassie | Ethiopia | M | | 2:03:59 WR! |
| 26817 | Peter Brooks | | | | 5:11:54 |
Lots of finishers.
Rab Mountain Marathon, Back o' Skiddaw, 27th September
Geoff Davis
I ran the RAB Mountain Marathon in the northern fells of the Lake district last weekend (27-28/09/08), accompanied by my mountain marathon partner from Northumberland Fell Runners, Paul Hainsworth. We did the RAB (a new event in its second year) mainly as training for our first attempt at the Elite category of the OMM (formerly KIMM) later this month. We were blessed with fine weather which made the navigation a lot easier and the hills a little easier to climb. All the courses were on a 'score' basis which means you have to choose your route and visit as many checkpoints in the time allowed - which for us was 7 hours on day 1 and 6 hours on day 2.
The bare stats are that we ran 24 miles on day 1 and climbed over 6500 feet and ran 17.5 miles on day 2 with over 4,700 feet of climb. We were pleased to finish in 12th place out of the 28 teams in the Elite class. I expect the OMM to be much tougher in all aspects but this was a very useful 'dress rehearsal'.
Kensington 8K, Washington DC, 27th September
Alan Purvis
"Kensington 8K, Saturday, September 27th" said the banner across the road. I always try to find a race while away on holiday and this one was almost within running distance from where I was staying. But this wasn't your actual Kensington High Street in our capital city - this was in Washington DC. And it wasn't just a race but part of a family fun-day. Mom, Dad and the kids all turned out in their oversize tee-shirts which had to be collected the day before. Almost no-one dressed in our familiar cutaway shorts and vests and I saw no running club names. Even so, the first ten were doing five-minute miles.
Before the 8:30 am start, quiet was asked for and everyone stood for the US national anthem, played on a saxophone with an extravagant arpeggio on the final high note. Conditions were very warm and humid after thunderstorms the previous evening which caused an electricity cut right in the middle of the presidential election debate between McCain and Obama whose names are splashed across every front garden here.
All of the six hundred or so runners were from Maryland or DC, except one from Florida and another from California. I was down as being from 'Durham, CO.' (Colorado)'! The route passed through closed roads in a residential area and around a park. I thought I was doing well up to the half-way mark but realised, on the way back, that it had been mostly downhill from the start. I must have looked pretty bad at the end as, when I unlaced my shoe to release the transponder which triggered the timing for the race, a young lady re-tied the shoe for me! I finished 371 out of 566 and was placed third in my age group which is designated here as 70-99! Seems a bit tough on the 90 year olds to be racing against youngsters in their eighties!
After the race we watched, live on TV, Hull City beat the mighty Arsenal, and finished the day with a meal at the Bombay Club, with valet parking, only a block away from the White House. Bit of a comedown when we go back to eating at the Millenium Indian Restaurant only a stone's throw from County Hall!
Results
| Pos | Name | Club | Cat | Pos | Time |
| --- | --- | --- | --- | --- | --- |
| 1 | Steve Hallinan | Washington DC | M22 | 1 | 25:50 |
| 371 | Alan Purvis | Durham CO | M70 | 3 | 48:57 |
566 finishers
Round Norfolk Relay, 21st September
Dave Robson
I normally sleep only in bed. I have been known to take a few moments kip at my desk but this is rare. I never sleep when travelling - on trains, planes, buses or anything else. I have never stopped driving, pulled into a service station only 30 minutes drive from home and fallen asleep in the driver's seat for two hours ! I did this on the way home and the reason ? RNR .
I left work about 12 on Friday and made good time to King's Lynn, apart from being slowed by farmers and their tractors taking advantage of the lovely weather which lasted all weekend. Met two of my team at the campsite and set up my new tent, which was somewhat larger than I expected. I was one a member of one of the three Fetcheveryone teams that were participating. The distance was 193 miles, seventeen stages, varying between 5m and 19m with fifty teams.
Phil had a much longer journey down as he was picking somebody up. I got up at 4.30 (my stage started at 5.30 in the morning!) Got to the start and got my baton. There were only five other teams at this first start - some teams were not starting until 13.30 ! There was lots of people who had got up to wave us off two of the Fetch teams were starting at the same time. The third Fetcheveryone team was starting at 7.00. I had feared I might be at the front at the start, but this certainly didn't happen. The first two runners shot off quickly followed by the third and they were all out of sight within about two miles, so I was out on my own after all. I could hear the fifth team a bit behind me, but I didn't look round. My team manager was with me on a bike and after about two miles the car slotted in behind me with its orange flashing light and it was great to hear them shouting encouragement and to be able to switch off my head torch and run in the beam of the headlights. Phil, who was in another Fetch team, came leapfrogging by every now and then so it was great to see him and others. After about 5m it was reasonable light I was able to give my head torch up. Phil's team were short of a few people, so Phil spent much longer on the road than me. He also ran one of the longest stages (Stage 11) very late at night.
Overall I had finished in 2hr 20min 10sec for the 16.3m so ahead of my 9mm pace I had aimed for (8min 35sec per mile) so I was very pleased with that. Its a while since I have run that pace for that distance.
Rapidly got changed, while we waited for the team manager and then jumped into the car with others who were doing a great job with the timekeeping and we drove ahead the end of Stage 2. Our runner came in looking great to lots of cheers and then she, and some of the others and I headed back to the campsite. The bike, the bike rack and the boxes of support equipment were transferred to another car - the logistics of all this were just mind-boggling.
Showered and tried to sleep without much success, it was now very hot, so I chatted away with other Fetchies who were waiting their turn to support or run. At 5.00 we left for Great Yarmouth, a 90 minute drive away. At that point my companion was due to run 15m, I was going to drive his two week old car (very nervous about this !) and pick up another Fetchie and the current timekeeper . We also had to move all the material and boxes from one car to our car and put a bike on to the back of the car. My companion ran off in the direction of the illuminations, it was just about to get dark and we started the transfer. It took longer then I thought, it took me longer than I thought to work out the bike rack, ended up getting my hands covered in oil, had to wash them to avoid getting oil all over my companion's steering wheel.... Luckily, we knew that our runner would be running on pavements in well lit Yarmouth for a while. However, when we were all sorted and started out to catch him up, we were starting to get worried that we had gone the wrong way or he had and what we were going to do next when finally we caught him, flying along making great time. The footpaths soon disappeared and he was running on the road signaling to us when he wanted drinks. At this stage team FE Too was the fourth team on the road, which was apparently so much better than last year. Eventually we turned into the change over at Geldeston (a Macdonalds) where our team manager was the runner and another team member was doing the support on her bike. They were both there waiting, but we had to give them high viz vests with their numbers on, move some boxes into the boot to make room for our runner, swap drivers. Result - a bit of chaos. The runner and biker got away okay, but we were a little slow, not helped by a marshall shouting at us for not being out behind our runner ! Caught them pretty quickly. We watched our manager smoothly cover the 19m stage in round about 3 hours. The time went quickly watching them ahead of us in the headlights. At the next checkpoint, Scole, we jumped out of the car and two others took over. This handover went much better !
We met up with our drivers who were to drive us back to the campsite. They had parked in what looked like something a mobile service station in a field which was a changeover car park. There must have been forty or so cars waiting for their teams, there were toilets, a mobile café, tents for for the officials, lots of lights, marshalls directing cars, just a staggering amount of organization. Apparently we had been the last team to leave this changeover last year, but this year we were only the fourth out of forty eight ! As we headed home we passed the teams ahead and we reckoned that our runner could catch at least two of them and she did (it may have been three, I have lost track).
Got back to base at 1.30 and I managed to get some sleep. Up at 7.00 and had a cooked breakfast and waited for the Fetch teams to come in. Team photos, presentations, striking camp, hugs, goodbyes. Start drive home, sleep in service station, washing, bed.
A fantastic weekend !! If you ever get the chance to run the RNR or go along and help with the supporting timekeeping, biking etc. do it ! It's an experience not to be missed !
Simonside Fell Race, Thropton Show, 20th September
Nigel Hepple
Saturday's Simonside Fell Race attracted a field of 80 runners. Nigel H, Shaun R, and Dougie N ran for Elvet Striders, and Susan & Geoff D were in disguise as NFR.
On what must have been one of the warmest days of the summer - I know that's not saying much, but it still caused the perspiration to flow and the cheeks to glow - the race followed the usual route*, although sadly we had to omit the plunge through the river because there was too much err , water, in it. From my position in mid-field across the valley bottom I watched Shaun gradually pull away from me, and ahead of him I caught brief glimpses of Geoff's steady lope as he disappeared up the hill and into the distance. There followed a runable climb up the roadway before we hit the steeper track through fields and my first walk of the day. Fortunately, this doesn't go on for long and the track flattens before entering the woods and climbing again. This bit is like trying to run up a narrow boulder-strewn dry stream bed and a lot of bunching occurs, which is a good excuse to slow down and catch breath.
*As we leave the woods and hit the heather, those of us who've done it before know to veer left and head directly for the escarpment though deep heather and broken ground. The turning is marked with a strip of tape but I noticed a group of runners ahead of me ploughing straight on up the gully. I hadn't the breath to shout after them, but assumed they were seeking easier contours Approaching the base of Simonside I was hailed by a cry of "Nigel....you b**tard" from somewhere behind and I turned to see a good number of runners who I knew to have been well ahead of me floundering through the heather from an odd direction. It seems they'd missed a turning. Oh dear! [ Do I detect a note of glee, by any chance??? What I actually shouted was: "Nigel, you bastard! Take a bloody short-cut, would you?" Ed.]
I was surprised how energised I felt after that, and with only a short scramble on all fours to reach the top of the course I began to think I could make a bit of a race out of this on the downhill section. Charging through the woods, dodging low branches, twisting and turning and splatting through the gloopy bits, slithering over tree roots and moss-covered rocks is great fun and I knew I wouldn't be overtaken by anyone I knew until we cleared the woods and got back onto the drudgery of the roads and the flat valley crossing. Determined to make the most of my unexpected advantage I kept my head down and didn't look back although I fully expected to be overhauled at any moment.
One or two other runners came past as I crossed the final field - through the middle of a sheep dog trial - and a particularly energy-sapping knee-deep bog, but no-one I knew. From there back into the showfield and down the funnel to the finishing line I wasn't challenged at all and was very satisfied with my time. I stood around waiting to cheer the others in but it took ages before they appeared - to paraphrase a recent race report editor, I'd gone home and had my tea before Shaun appeared. I'm told a second wrong turning was taken along with a few other runners and valuable time lost. C'est la vie.
Geoff of course was well up the field and Susan came in a few minutes after Shaun. Dougie turned up a little later looking remarkably fresh after his exertions.
Moral of this story - it's not just the running that counts in a fell race!
Results
| Pos | Name | Club | Cat | Pos | Time |
| --- | --- | --- | --- | --- | --- |
| 1 | Nick Swinburn | NFR | M | | 47.12 |
| 18 | Aly Raw | Bingley | FV40 | | 58.54 |
| 20 | Geoff Davis | NFR | MV50 | 2nd MV50 | 60.15 |
| 33 | Nigel Heppell | | MV50 | | 66.45 |
| 52 | Shaun Roberts | | MV50 | | 71.34 |
| 59 | Susan Davis | NFR | FV40 | | 75.05 |
| 61 | Dougie Nisbet | | MV40 | | 76.09 |
| 65 | Eric Whittaker | Blackhill | MV60 | 1st MV60 | 77.38 |
79 finishers
Parachute Regiment 10M, Catterick Garrison, 14th September
Sheikh ma Bahookie [aka Dougie Nisbet.]
I hear the sound, of distant gunfire.
The Para's 10 was a bit of a mystery. An unknown quantity. What would it be like? We couldn't ask anyone who'd run it before, because no-one had run it before. At least not for at least 20 years when it was last held at Aldershot in 1993.
Peter, Lindsey, Shaun and me wandered around at the start surrounded by paras in full military clothing. After some prodding from Shaun I nervously approached one who didn't look too threatening and asked him if I could try lifting his Bergen. He happily obliged and I found it wasn't too bad to carry. For about 30 seconds. However the thought of running with one for a couple of hours (while wearing boots) comes well down on my list of fun things to do. [It was a separate option at no extra cost. And I, too, will be giving the option a miss in future years. Ed.]
The start of the race was a classy affair. As the website says, "Be the Breast" (I don't get it) and bubbly Sun page 3 beauty Peta honked the horn that started the race while the photographer seemed to want to get Peta to pose in some very intriguing positions. Probably something to do with getting the light right.
Peter was running steadily and was just in my sights for the first three miles after which he put the foot down and was soon lost from view. I was surprised to suddenly catch him around the 8 mile mark where he was struggling up a steep hill. The decent thing to do at this point would be to nod some encouragement and speed by, but moments like this don't happen to me very often so I decided to slow down and milk it. After making a show of holding back so that he could keep up with me he soon suggested that "You go on without me, I'll only slow you down", or something like that anyway. It may have been something else entirely. I knew I hadn't been getting faster and it was obvious that the course had not been kind to Peter's achilles.
I found the steep descents on the smooth concrete sections made my shins sting, and the cattle grids (of which there were many) were a tricky affair. There was a short, brutal climb a mile or so from the finish which caught many by surprise. The course itself was quite scenic with trees, glades, flowers, ponds, birds, burnt-out tanks, army patrols and occasional sounds of gunfire. Being passed by runners in full military gear and carrying full packs can do strange things to one's self-esteem. It's an impressive feat but I'm sticking with running vest, shorts and trainers.
Shaun had been in a full 10 minutes when I arrived at the finish and Peter arrived (not that I was counting you understand) at least four minutes after me cautiously nursing some tender ankles and thinking of Berlin.
This was a very interesting race with variable terrain. No flat bits. I would probably do it again. Our garmins all measured it as closer to 9.5 than 10 miles. Most of it I really liked but the steep smooth downhill stretches on the smooth concrete and the cattle grids were unpleasant. If the Jelly Tea and Para's 10 are on the same day next year it'll probably come down to the toss of a coin.
Results
| Pos | Name | Club | Cat | Pos | Time |
| --- | --- | --- | --- | --- | --- |
| 1 | Julian MAWSON | Otley AC | M | | 1:01:58 |
| 2 | Mary WILKINSON | Bingley Harriers | F | 1 | 1:01:59 |
| 24 | Shaun ROBERTS | | M50 | | 1:10:38 |
| 158 | Dougie NISBET | | M40 | | 1:27:42 |
| 168 | Peter BROOKS | | M | | 1:29:54 |
277 Bergen-free finishers.
Tynedale 10M, Jelly Tea Race, 14th September
Dave Robson
A still cloudy day for this lovely scenic race, so excellent conditions for running. Quite a large number of entrants this year in spite of lots of other races taking place on the same day. Fiona did an excellent time and was second lady and first F45 - well done Fiona !
Results
| Pos | Name | Club | Cat | Pos | Time |
| --- | --- | --- | --- | --- | --- |
| 1 | Nick SWINBURN | Morpeth Harriers | M | | 0:52:58 |
| 55 | Angela HIBBS | Chester-le-Street | F | 1 | 1:01:40 |
| 81 | Fiona SHENTON | | F/F45 | 2/1 | 1:04:13 |
| 390 | Phil OWEN | | M40 | | 1:24:18 |
| 407 | Dave ROBSON | | M55 | | 1:25:46 |
| 435 | Andrew THOMPSON | | M | | 1:27:58 |
| 526 | Mary COFFIELD | | F55 | | 1:35:58 |
| 575 | Margaret THOMPSON | | F55 | | 1:45:19 |
597 finishers.
Summer Handicap Series, Final, 10th September
Colin Blackburn
Thanks to the 19 runners who turned out earlier than usual for the final. Thanks also to the Daves for helping on the finish line.
The final was, as expected, a tight affair with over half of the runners finishing within a minute of their handicap. Mike Bennett finished just 3 seconds of his handicap and as he wasn't wearing a watch he took the "Watchless" prize. First across the line was relative newcomer Grahame Arrowsmith. Grahame had only competed in one round of the handicap and so he won the prize for the "B Final". Andy Jordan was second to cross the line and as he had taken part in 4 of the 5 runs he took the overall winners prize. Second overall was George Nicholson crossing the line in third place. Andy Jordan's final time was a massive 33% improvement on his first handicap run but as he had already won a prize the "Most Improved" prize went to Alan Smith with a 14% improvement over the series.
Thanks to everyone who helped me out over the course of the summer: Louise Bilcliffe, Peter Brooks, Mandy Dawson, Dave Robson, and David Shipman. Most of all a huge thank you to all 59 runners who took part in the series.
Results
| Name | H/C | Start | Finish | Time | Runs | Imp |
| --- | --- | --- | --- | --- | --- | --- |
| Grahame Arrowsmith | 44:25 | 18:45:35 | 19:25:22 | 39:47 | 1 | 11 |
| Andy Jordan | 38:30 | 18:51:30 | 19:28:13 | 36:43 | 4 | 33 |
| George Nicholson | 40:30 | 18:49:30 | 19:29:14 | 39:44 | 4 | 5 |
| Dougie Nisbet | 39:40 | 18:50:20 | 19:29:18 | 38:58 | 3 | 7 |
| Shaun Roberts | 34:25 | 18:55:35 | 19:29:23 | 33:48 | 4 | |
| Amanda Hunter | 44:20 | 18:45:40 | 19:29:36 | 43:56 | 2 | 3 |
| Alan Smith | 41:15 | 18:48:45 | 19:29:37 | 40:52 | 4 | 14 |
| Conrad White | 33:55 | 18:56:05 | 19:29:42 | 33:37 | 2 | 4 |
| Mike Bennett | 33:25 | 18:56:35 | 19:30:03 | 33:28 | 5 | 3 |
| Debs Goddard | 39:25 | 18:50:35 | 19:30:07 | 39:32 | 1 | |
| Michael Kitson | 44:10 | 18:45:50 | 19:30:13 | 44:23 | 3 | |
| Peter Brooks | 40:55 | 18:49:05 | 19:30:27 | 41:22 | 3 | |
| Nigel Heppell | 35:10 | 18:54:50 | 19:31:12 | 36:22 | 4 | |
| Lynn Moor | 47:50 | 18:42:10 | 19:31:20 | 49:10 | 3 | 4 |
| Will Horsley | 29:50 | 19:00:10 | 19:31:26 | 31:16 | 1 | 7 |
| Tom Reeves | 32:25 | 18:57:35 | 19:31:54 | 34:19 | 3 | |
| Roz Layton | 37:15 | 18:52:45 | 19:32:36 | 39:51 | 0 | |
| Stan White | 49:50 | 18:40:10 | 19:33:30 | 53:20 | 3 | |
| Phil Owen | 39:50 | 18:50:10 | 19:34:00 | 43:50 | 3 | |
Ben Nevis Race, 6th September
Colin Blackburn
A few years ago I entered the Ben Nevis Race. This was back in the days when I was fit(tish). The entry for the race is made the best part of a year before the race takes place and a lot can change that time. A week or two before the race I got a bad groin strain and decided that climbing Britain's highest mountain was not a sensible thing to do. About a year ago I entered the Ben Nevis Race, again. This was back when I was relatively unfit. Still, a lot can change in a year—and it did, I got even less fit! However, with no actual injuries I really had no reason not to run it this time. So, I used the race as an excuse to spend some time with my colleagues in Dundee and resigned myself to a hard day on the hills.
I travelled from Dundee with friends for a weekend in the Highlands. Frank was doing the Ben while his wife Anita was going hill walking with a couple of friends. After the race we'd all relax in a B&B in Laggan (Glenbogle to Monarch of the Glen fans) and then go orienteering at Loch Vaa on the Sunday. After a bit of car shuffling Frank and I eventually arrived at Fort William in good time to register and prepare for the race. This year the Ben was part of a world mountain running series, Buff Skyrunner World Series. This meant that as well as there being a lot of foreign contestants there was also a free Buff in the registration pack. Along with the miniature of whisky this made the entry fee very worthwhile. It was almost worth going home just after registration—it would have been less painful!
I bumped into a few of my NFR clubmates, milled around a bit and then got changed. After a short warm up on the football pitch where the race starts and ends the runners all lined up behind the pipe band. Olympics-style we all then walked around the pitch to the sound of the band until we arrived at the start line. To get into the start pen we had to hand in our numbered paper tags to one of the officials and confirm that we had full waterproof body cover. After a couple of announcements we were off.
The race starts with a circuit of the football stadium (well, small ground) before heading out on the road to the Ben Nevis Inn. This is the flattest section of the race other than the summit. Once past the inn the route starts up the Tourist Path, gently at first before getting steeper and steeper. Here and there there are potential shortcuts to avoid the zig-zags of the main path. Different runners take different shortcuts, some seem worthwhile other not so. All the way up the path there are numerous supporters cheering on their family, friends, clubmates and even me! There were lots of offers of water and handfuls of sweets were held out to be grabbed by passing runners.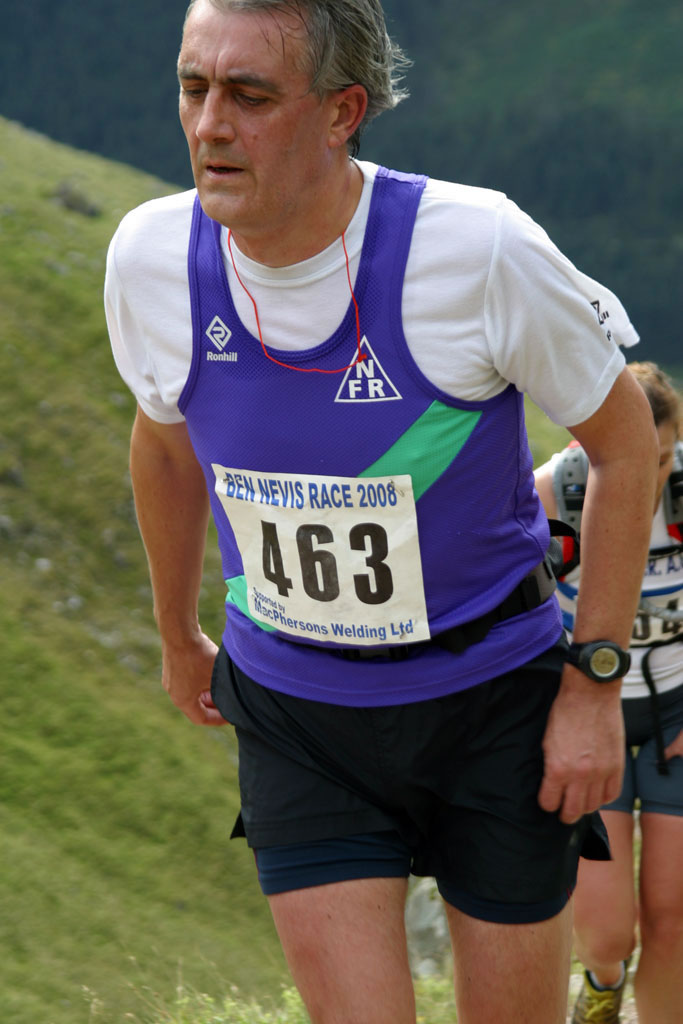 Further up the slope the real hard work started as the route takes a more direct line up the hill following the scree slopes between the zigzags of the main path. At this stage my calves started to cramp when I stretched for high steps and I wondered if I'd ever make it. I decided that getting to the top and back was something I had to do and from then on I tolerated the occasional pain. I continued up and up the scree., and then, the front runners start appearing tumbling back down. When they passed me the three leaders were just 50 yards apart. The British runners sported their club vests while the foreign runners seemed to have adopted cycling-like Lycra kit. The leading woman, the indomitable Angela Mudge, seemed to be somewhere in the top 15 overall when she sped past me.
Eventually the slope levelled out but the rock underfoot didn't relent. More and more runners passed me as they headed down and I wondered if I'd ever see the summit. The temperature dropped as I entered the cloud and finally I could sense the top approaching—though my altimeter was a big clue! Through the mist I could see the four marshalls and 1:50 after starting I handed my dog-tag to one of them. I turned and through a break in the cloud got a stunning view, then it was down!
I'd like to say that down was easier than up but it was just faster. There was a bit of running down the upper slopes and then the very steep descents kicked in—sometimes scree, sometimes grass and mud. Getting down to the halfway stream I took few seconds to take a few mouthfuls of water and then hit the main path. The pavement was very painful underfoot but at least I was running. It took the odd shout to get some of the more ignorant tourists to realise there was a race on even if I wasn't an elite competitor, but most tourists and walkers were very friendly and positive in their encouragement. Finally I could see the football ground in the distance, a welcome relief.
The final road section was probably the hardest bit of road running I have ever done in my life. The few tiny slopes felt like mountains. I entered the stadium and then had a 400m circuit of the grass to do while the commentator announced me to the assembled throng. I crossed the line in 3:07, an absolutely terrible time for me that highlighted how unfit I am. However, and this is a big however, I had been up and down Ben Nevis and I was under 3:15 and so could at least submit an entry next year and go for a PB if I got in.
I then collapsed on the grass and tried to decide if I wanted to throw up or not. I didn't. Back to the changing room and the smell of sweat and liniment sent me back outside to decide whether I wanted to throw up or not. I didn't. I finally got changed and Frank, who'd managed a fantastic 2:05, drove us both back to Laggan to the most welcome B&B in the world, The Rumblie. A hot shower, great food and a few beers with friends didn't take away the pain but it made me forget for a while.
I'll skip most of the boring stuff about orienteering other than to say I managed half of a course fairly well and that Loch Vaa is a fine place to orienteer. Elvet Striders report writers often end by recommending a race. So, in that spirit would I recommend the Ben Nevis Race? Well, if you like going up very steep hills and you like coming down very steep hills then maybe. If you like running on blister-inducing rock and scree slopes then maybe. If you want to run the hardest ten mile race of your life then definitely! Entries open in January!